Lightspeed Shopify Integration
- Free Setup
Integrate Lightspeed Retail POS with Shopify store in just a few clicks, within five minutes you can connect and configure both platforms together. Easy to sync products, inventory, price levels, sales orders, and customers. Sync store-wise inventory and orders using our Lightspeed Shopify integration.
Instantly sync product details like title, description, images, variations, dimensions, and inventory data between Lightspeed POS(R Series) and Shopify. Our platform gives you full control to manage all your details in one place. By connecting your physical and online store you can improve your sales and you can reach more customers.
Our Work Flow
Shopify integration with Lightspeed in few clicks and configure it as per your business requirement. Enjoy the Sync!!
A
Connect Lightspeed
Join Lightspeed with Shopify store in few clicks. Easy and user friendly user interface to connect both platforms.
B
Configure & sync
Configure both platforms with each other as per your business requirement and set the syncing rules.
C
24x7 Online Support
Our 24x7 online support team will keeping you always connected. You can talk to our boarding and product experts anytime.
Our Best Pricing Plan
No annual contracts. Month-to-month subscription. No hidden charges.
Unlimited Products

Unlimited Orders

No percentage of transaction fees

1 Integration

No Setup Fee

Support: Chat & email
Unlimited Products

Unlimited Orders

No percentage of transaction fees

1 Integration

No Setup Fee

Support: Skype, Chat & email
Unlimited Products

Unlimited Orders

No percentage of transaction fees

Unlimited Integration

No Setup Fee for additional integration

Support: Skype, Chat & email
The Power of Integration
The Shopify integration with Lightspeed POS through SKUPlugs offers benefits such as efficient inventory management, expanded sales opportunities, unified order processing, and data accuracy, ultimately helping your retail business thrive.
Why should you opt for Lightspeed Shopify Integration?
If you wish to attract more clientele, you need to provide better customer service. Improved customer interactions can go a long way in increasing your customer base and, subsequently, your profits. You need to create a seamless omnichannel experience for the customers for this to occur. Getting Lightspeed POS Shopify integration can easily help you achieve this.
Our Lightspeed and Shopify provide a real-time inventory sync, and they also synchronize product tags, custom fields, images, and all types of price levels. It is the ideal choice for the multi-location inventory sync, and it also syncs the Shopify orders into the respective Lightspeed store, with no need to put additional resources. You can easily connect Lightspeed with Shopify.
When you opt for Lightspeed Shopify Integration, you can achieve many things. Here is why Lightspeed and Shopify integration can be beneficial for your business:
Managing inventory becomes child's play
Keeping track of sales is easy
Customer data is easily available
Prevent Overselling
Expand sales reach to Marketplaces
No Manual work
Increase revenue and growth
Seamlessly integrate your Lightspeed across multiple platforms
Using our platform you can Integrate your Lightspeed products and order data with large & niche marketplaces along with the Shopify website. You can integrate your Lightspeed with
Amazon
,
Walmart
,
Farfetch
,
Lazada
,
DubaiStore
,
Noon.com
,
Zalando
, and many more.
After connecting your Lightspeed with multiple marketplaces you can provide customers with access to a broader variety of products and benefits, So it will improve your sales. Our system keeps the inventory updated on your Shopify website and other Marketplace as well. Integrating your Lightspeed Retail POS with Shopify can simplify your operations by reducing manual work and easily managing your data in one place.
Why SKUPlugs
Using the SKUPlugs integration platform, you get a single place where you can track all Shopify and other marketplaces sales orders, and manage inventory. Our focus is more than powering your online business. We are here to give you the functionality that will help you grow a successful online business. Give your business the edge to take out competitors y partnering with the best.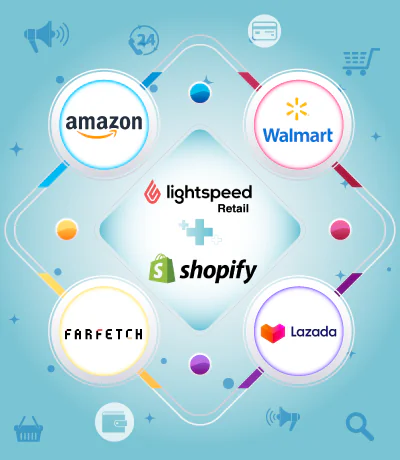 Lightspeed is a global leader in retail, restaurant and golf management software that is recognized worldwide for rich functionality, multi-national ability, and unique flexibility. Lightspeed Retail is a Cloud-based Point-of-Sale system that is perfect for small businesses as well as for multistore businesses. It is a strong POS system with an easy-to-change user interface, flexible reporting, and quick and easy promotion tools.
Key Features
Lightspeed allows businesses to scale products and inventory. When you expand your business to more locations, it will be as simple as opening a new account, copying the menu from one of the existing sites, switching the tablets on, and opening the doors. You can enable multiple payment types like Credit Cards, mobile, and contactless payment.
Lightspeed Retail has every functionality that you need to happy your customer's at the checkout counter and beyond. It provides a good API interface so that you can connect your business with other shopping carts(Shopify, Magento, Woocommerce, Bigcommerce, Wix, Squarespace) and marketplaces as well.