Lightspeed eCommerce Integration

- Free Setup
Our Lightspeed ecommerce integration enables your online store and Lightspeed Retail POS to communicate with each other. System will keep inventory in sync on both platforms. Integrate Lightspeed Retail POS with online eCommerce and Marketplaces in just a few clicks, within five minutes you can connect & configure all platforms together. It is easy to manage Products, Inventory, Customers, and Sales Orders synchronization.
Our Work Flow
Synchronize Lightspeed Retail POS with online store using our Lightspeed ecommerce integration platform and configure it as per your business requirement. Enjoy the Sync!!
Connect Lightspeed
In a few clicks, you can connect Lightspeed with eCommerce platforms. An easy, user-friendly user interface to connect both platforms.
Configure & sync
Configure Lightspeed with eCommerce platforms as per your business requirement and set the syncing rules.
24x7 Online Support
Our 24x7 online support team will keeping you always connected. You can talk to our boarding and product experts anytime.
Our Best Pricing Plan
No annual contracts. Month-to-month subscription. No other hidden charges.
Products Unlimited

Orders Unlimited

0 percentage of transaction fees

1 Integration

No Setup Fee

Support: Chat & email
Products Unlimited

Orders Unlimited

0 percentage of transaction fees

1 Integration

No Setup Fee

Support: Skype, Chat & email
Products Unlimited

Orders Unlimited

0 percentage of transaction fees

Unlimited Integration

No Setup Fee for additional integration

Support: Skype, Chat & email
Go for SKUPlugs Lightspeed eCommerce Integration
Being in such a dynamic e-commerce industry we understand how the marketplace operates and what solutions are required to best fit into our client's business operations. We keep on updating the technology front to meet the industry standards, which puts SKUPlug's cloud-based integration solution apart from others.
Creating a setup on our POS integration platform is easy. We don't charge anything to create and for setting up your POS integration profile. Integration and some part of customization are done in the real-time environment across multiple & different platforms.
Our system will synchronize your product data with your eCommerce website without any manual work. It will automatically synchronize sales order and customer details to Lightspeed. Connect Lightspeed to your multiple online sales channels in a single account. You can simplify operations by reducing manual work, and you can easily manage your data in one place.
Why SKUPlugs
Using SKUPlugs Lightspeed Retail Integration you can automate retail business process and it saves time, money, and additional efforts. Integrating Lightspeed Retail POS with Shopify, Woocommerce, Magento, Amazon, and Bigcommerce not only becomes easy but at the same time, it also allows you to control your business in a real-time environment.
Seamlessly integrate your Lightspeed across multiple platforms
Assuming you're selling your items from numerous online marketplaces and in your web-based store, then, at that point, you'll need to be extra cautious that your item data is refreshing continuously across all connected sales channels. There should be exact stock in all connected sales channels if not you might confront penalty and business loss.
Connect multiple sales channels
By using our Lightspeed eCommerce integration platform you can connect Lightspeed Retail POS to multiple marketplaces. Along with online store, you can connect Lightspeed Retail POS with Amazon, Walmart, Farfetch, Lazada, Zalando, DubaiStore, noon.com etc.
We are focused on more than powering your online business. We are here to give you the functionality that will help you grow a successful online business.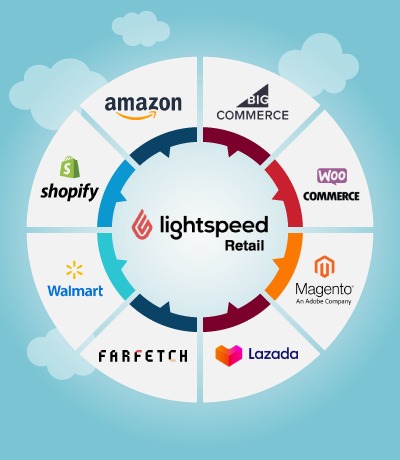 Lightspeed is a global leader in retail, restaurant, and golf management software that is recognized worldwide for its rich functionality, multi-national ability, and unique flexibility. It is a Cloud-based Point-of-Sale system that is perfect for small and multistore businesses. It is a strong POS system with an easy-to-change user interface, flexible reporting, and quick and easy promotion tools
Key Features
It allows businesses to scale products and inventory. When you expand your business to more locations, it will be as simple as opening a new account, copying the menu from one of the existing sites, switching the tablets on, and opening the doors. You can enable multiple payment types like Credit Cards, mobile, and contactless payment.
Retail POS has every functionality that you need to happy your customer's at the checkout counter and beyond. The system provides a good API interface so that you can connect your business with other shopping carts(Shopify, Magento, Woocommerce, Bigcommerce, Wix, Squarespace) and marketplaces as well.