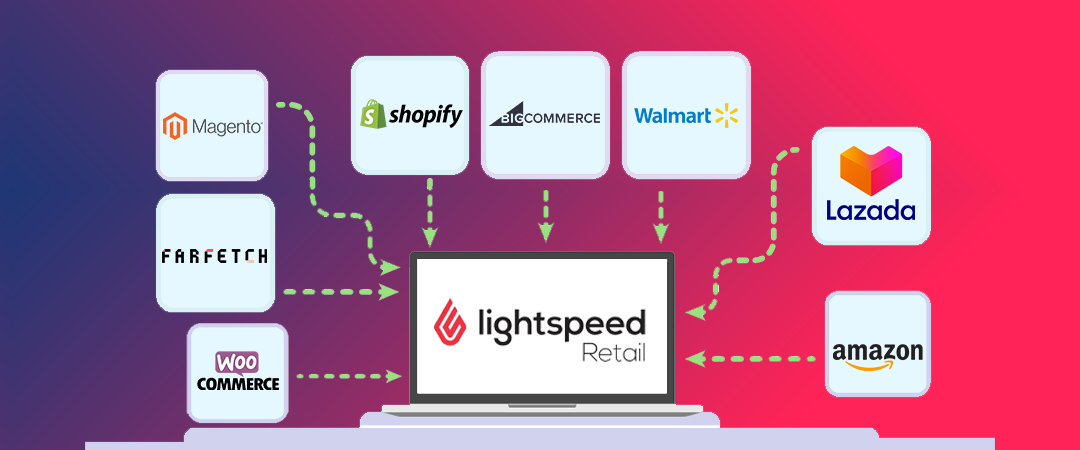 Why and How to connect Lightspeed Retail POS with eCommerce platforms
eCommerce platforms have made it easy for people to sell their products across the globe to international clients. Most small manufacturers usually have their own network of retailers through which they sell their products. Alternatively, industry giants like Amazon and Walmart also offer small retailers and manufacturers to sell their products using their platforms. However, if you are selling through multiple online platforms and physical retail outlets, managing your inventory can be difficult, especially if it is being done manually. Hence, opting for Lightspeed integration with eCommerce becomes a wise decision.
Why is Lightspeed Retail POS gaining prominence?
Automation has become an important part of every industry to save time and money. Point-of-sale applications have helped in this process tremendously. Using this, any sale is entered automatically, and the inventory amount is updated accordingly. You also know the amount for which the sale has happened and the change that is to be tendered. This makes it easy for you to know the stock situation and the sale amount at the end of the day without spending additional manpower and time tallying this. As a result, there is a huge demand for POS systems, not just in physical retail outlets but also for online stores.
People who are selling their products across different online and physical stores prefer to use Lightspeed eCommerce Integration Retail POS for keeping a check on their inventory and sales. One of the most popular reasons for opting for Lightspeed includes its integration with various eCommerce platforms. Take a look at the various integrations offered by Lightspeed Retail POS:

Lightspeed Shopify Integration
Shopify is one of the most popular platforms to create an eCommerce site. With several readymade templates to choose from, sites created on Shopify provide a different look always. When you opt for Lightspeed Shopify Integration, you get an easy and efficient way to manage your inventory and customer data and track your sales across different platforms with ease. Thanks to seamless integration between the two platforms, information can flow easily between these two systems. A single Lightspeed POS can be used to manage inventories across both your retail and your Shopify store. Thanks to the Lightspeed Shopify Integration, you can easily access customer data and the stock situation in real-time. This prevents overselling of products which is one of the best features of the integration.
Lightspeed WooCommerce Integration
Suppose you desire to get updated information regarding your clients and their orders in one place, irrespective of the store you sell your products from. Then you should opt for Lightspeed WooCommerce Integration. You can easily get rid of manual data entries and keep track of the inventory in real-time. The two-way sync lets you easily import the existing inventory from either of the platforms (WooCommerce or Lightspeed) to obtain a consolidated one. This inventory is updated in real-time whenever a sale occurs across any platform. You can easily get automated inventory and order management with client details and ease of billing when you opt for Lightspeed WooCommerce Integration.
Lightspeed BigCommerce Integration
If you desire to sell more products in multiple places, then you need the Lightspeed BigCommerce Integration support. With an automatic listing of products from your Lightspeed POS to your BigCommerce store, you can easily start selling to people across the globe. Since the inventory is synced automatically, you save a lot of time. Moreover, your customers are always provided with accurate stock levels, thereby preventing product overselling. Apart from this, Lightspeed BigCommerce Integration also allows you to manage product information across different selling platforms and POS from one location. The best part of this integration is that it supports in-store pickup.
Lightspeed Magento Integration
One of the preferred platforms for start-ups, selling on Magneto has become easier thanks to Lightspeed Magento Integration. One can easily integrate the POS with the eCommerce platform using connectors or hire a developer to help you with it. Once the two platforms are integrated, you can synchronize an unlimited amount of data across the two without any barriers. Customer data, stock situation, product details, etc., are available to you with a few clicks. Another feature that makes Lightspeed Magento Integration popular is that it offers bi-directional sync. You sync products across both platforms. You reduce a lot of manual work since inventory management and sales transactions become easy due to automation. With improved customer satisfaction, increasing profits becomes easy.
Lightspeed Wix Integration
If you sell your products through physical stores and the Wix eCommerce platform, Lightspeed Wix Integration is the best way to get bi-directional data exchange. With the integration of your POS and eCommerce platform, managing online and in-store operations becomes easy. The easy-to-use cloud-based connector makes it easy to streamline operations by removing manual errors. You can configure both platforms to synchronize products and orders with automated synchronization. You can also sync selected products or use different prices for specific products when choosing Lightspeed Wix Integration. Improve customer satisfaction and operational efficiency while reducing labor costs with this integration.
Lightspeed Amazon Integration
Amazon is one of the most popular eCommerce platforms with a wide global outreach. If you are a seller on Amazon and sell your products across physical stores, opting for Lightspeed Amazon Integration is ideal. Integration is one of the best ways to stay ahead of your competitors. You can easily synchronize product prices and stock situations from your Lightspeed POS to your Amazon store with efficient integration. In contrast, your sales orders from eCommerce will be synchronized with the Retail POS. This ensures that you save valuable time and resources while keeping your inventory completely accurate. In addition, thanks to Lightspeed Amazon Integration, you can easily prevent any overselling of products or delayed shipment.
Lightspeed Walmart Integration
Walmart is a popular name when it comes to retail stores. It is no doubt that with several retail stores across various cities and a leading online marketplace, it is a huge brand. As a result, selling products here allows you to reach an audience worldwide. For convenience in selling online, it is recommended to opt for Lightspeed Walmart Integration. Sellers opting for this integration get the best of both worlds. They can easily sell their products across online and retail marketplaces without worrying about overselling products.
With Lightspeed Walmart Integration, you can easily upload bulk products to the Walmart marketplace from your POS. Similarly, any orders placed on the eCommerce platform are downloaded in the POS. Thanks to real-time synchronization, your customers get the exact stock situation, pricing, and availability to improve their shopping experience.
Lightspeed Farfetch Integration
The B2B marketplace platform Farfetch is similar to Shopify or Amazon in its services. Integrating your Farfetch platform with Lightspeed Retail POS is ideal if you wish to increase your selling potential. Lightspeed Farfetch Integration works through a two-way integration that allows information to flow easily between your POS and eCommerce platform. Since the entire process is automated, the scope of manual errors while entering data is reduced. Furthermore, seamless integration between the two platforms makes automatic downloading of product details and orders possible. This reduces the cost of doing business. With Lightspeed Farfetch Integration, the clients get an omnichannel experience showing the same product information across all sales channels.
Conclusion
Lightspeed Retail is one of the most powerful POS that has become the best among the currently available options. The platform's best feature is the availability of numerous successful integrations with various eCommerce platforms. Considering that you can integrate the POS with different online platforms and increase your profit considerably, Lightspeed has emerged as the number one choice. Opt for Lightspeed integration with eCommerce platforms if you wish to scale up your business and sell across multiple marketplaces.