Shopify has emerged as one of the popular options when it comes to online business. Not only start-ups but well-established businesses prefer to set their online shopping site using Shopify. A point-of-sale application such as Lightspeed can help you keep track of your inventory. Though individually, both these platforms are excellent; however, their amalgamation can help you immensely. With Lightspeed Shopify Integration you get the best of both worlds. This ensures that your business' sales increase tremendously.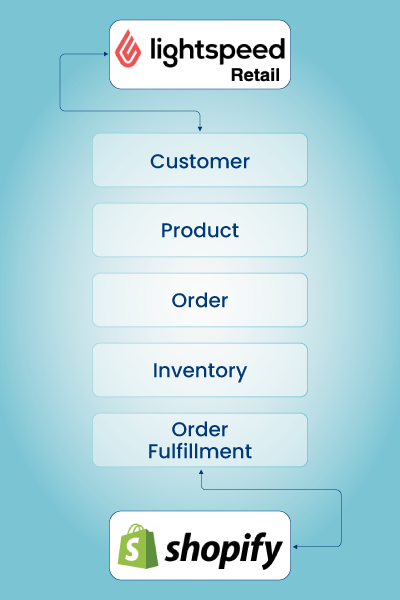 Why should you opt for Lightspeed integration with Shopify?
There are several advantages of integrating your Shopify-powered eCommerce platform and your Lightspeed POS. If you have been advised to get Lightspeed and Shopify integration here are some advantages that you will experience:
You are able toprovide your customers with a unique shopping experience. When you have the best of both worlds, you can provide your clients the best of services too. Lightspeed Retail is one of the most preferred POS due to its various useful features. Similarly, Shopify has become the most chosen platform for developing an eCommerce website. Acombination of these two provides customers with a wonderful shopping experience. Primarily this is because the front end (Shopify) of the online store is attractive and easy to navigate, while the backend (Lightspeed) provides you accurate information about the stock situation. This ensures that clients are aware of the real-time stock while shopping.
You can easily streamline your retail operations. If you are selling through multiple platforms, whether online or offline, maintaining track of your sales is extremely difficult. Having a POS application that can help you keep track of the sales happening across your various retail stores and online marketplaces can definitely ease out your operation. With Lightspeed integration, you are guaranteed that every time a sale is made across any store, it is automatically reflected in your records across all stores (retail and online). This ensures that your staff is well equipped to handle the situation.
You can save on manpower and time considerably without losing on business. Every business, whether big or small, is looking forward to making profits. The easiest way to make profits is by reducing your costs. However, reducing manpower can have its consequences, especially if you have not opted for Lightspeed and Shopify integration. The integration ensures that any sale occurring across any of your different online or brick-and-mortar stores is updated across all portals. This reduces the manpower spent in checking and verifying the inventory at the end of the day. In the long run, the process saves you more money than you spend on getting the integration.
What are the benefits of Integrating Shopify and Lightspeed?
Lightspeed Shopify Integrationcan help provide your customers, whether online or offline, with a consistent shopping experience.Thus, investing in Lightspeed integration with Shopify can result in tremendous benefits. Once your POS and eCommerce platforms are integrated, you will not face any difficulty in maintaining customer data. This ensures that whether the customer offers to shop online or in-store, the synchronized system will reduce the time spent looking for customer details. Apart from this, synced data also provides you to give your customers personalized services.
Important data including the products remaining is synchronized in real-time. This prevents overselling any product which will invariably result in delayed shipping. In a world of instant delivery, going back on your delivery promise can result in a bad reputation. It can hamper your chances of gaining ground, especially in online marketplaces. However, if the POS and eCommerce are synced, such as the case with Lightspeed and Shopify integration, you can provide transparent order status. This helps your customers with the exact stock situation and expected delivery delays.
Managing different stores and staying on top of business can be exhausting unless you have technological support. Lightspeed offers to keep stock of all your physical stores. You can easily stay on top of the inventory from a central place. With Lightspeed Shopify Integration you can also manage the sales orders from the various online marketplaces with ease. Moreover, handling large product catalogs becomes easy thanks to synchronization. Products that are present on either Lightspeed or Shopify are unified to create a single catalog devoid of any duplications. Since the two platforms are integrated, you are not required to manually check and make each entry.
Which Lightspeed Shopify Integration should you choose?
Lightspeed Shopify Integration can help you gain customer trust and thereby improve your profits. However, the integration needs to be done by professionals to ensure you reap its benefits. There are different approaches to Lightspeed Shopify Integration. These include a plug-in or add-on app, a custom integration, or opt for a commerce integration platform. Since different businesses have different requirements, growth potential, and tolerance of risk, the integration should be chosen accordingly.
The Add-on or Plug-in App is ideal for small retailers who have just started. However, this approach has limitations as the integration, in this case, is point-to-point. There are limitations on how much data can be sent from Lightspeed and Shopify and how often the synchronization occurs. In the initial years of business, this may help you. However, as your business grows, you might need more sales channels and subsequent integrations which may prove to be costly and time-consuming.
The Custom Shopify-Lightspeed Integration offers to synchronize customer and orderdetails, items in the inventory, and shipping details across both platforms. As a result, all your business needs are catered to ensuring that every purchase is automatically reflected, customer data, shipping, and order details are readily available for smoother functioning.
The Commerce Integration Platform is for big businesses where pre-built connectors are available for Lightspeed and Shopify with real-time data sync to cater to all your business needs.If your business requires multiple location fulfillment or different delivery options, then this is the ideal integration. As your business grows, the platform can be scaled up to cater to changing needs.
Depending on your business operation and budget, you can choose one of the above-mentioned approaches for Lightspeed Shopify Integration.