Lightspeed Vs. Shopify: Which One Suits Your Business?
Introduction
In the world of e-commerce, choosing the right platform can be a make-or-break decision for your business. Lightspeed and Shopify are two leading contenders in the e-commerce arena, each offering a suite of features designed to help you build and grow your online store. In this blog post, we'll dive into the Lightspeed vs. Shopify debate, highlighting their key features and pricing plans to help you make an informed decision that suits your business needs.
Lightspeed: Power and Flexibility
Lightspeed is a comprehensive e-commerce and point-of-sale (POS) solution tailored for businesses of all sizes. One of its standout features is its robust inventory management system, which seamlessly integrates with in-store and online sales. Lightspeed excels in industries such as retail, hospitality, and automotive, thanks to its specialized POS capabilities.
Lightspeed is a dynamic and comprehensive point-of-sale (POS) and e-commerce platform that has gained prominence in the retail and hospitality industries. With its cutting-edge technology and user-friendly interface, Lightspeed empowers businesses to efficiently manage their operations, from inventory and sales to customer relationships and analytics. Whether you're a brick-and-mortar store, a restaurant, or an online retailer, Lightspeed offers a tailored solution that enhances the customer experience, streamlines business processes, and provides valuable insights to drive growth. Its versatility and commitment to innovation make Lightspeed a go-to choice for businesses seeking to thrive in the fast-paced and ever-evolving landscape of modern commerce.
Key Features of Lightspeed: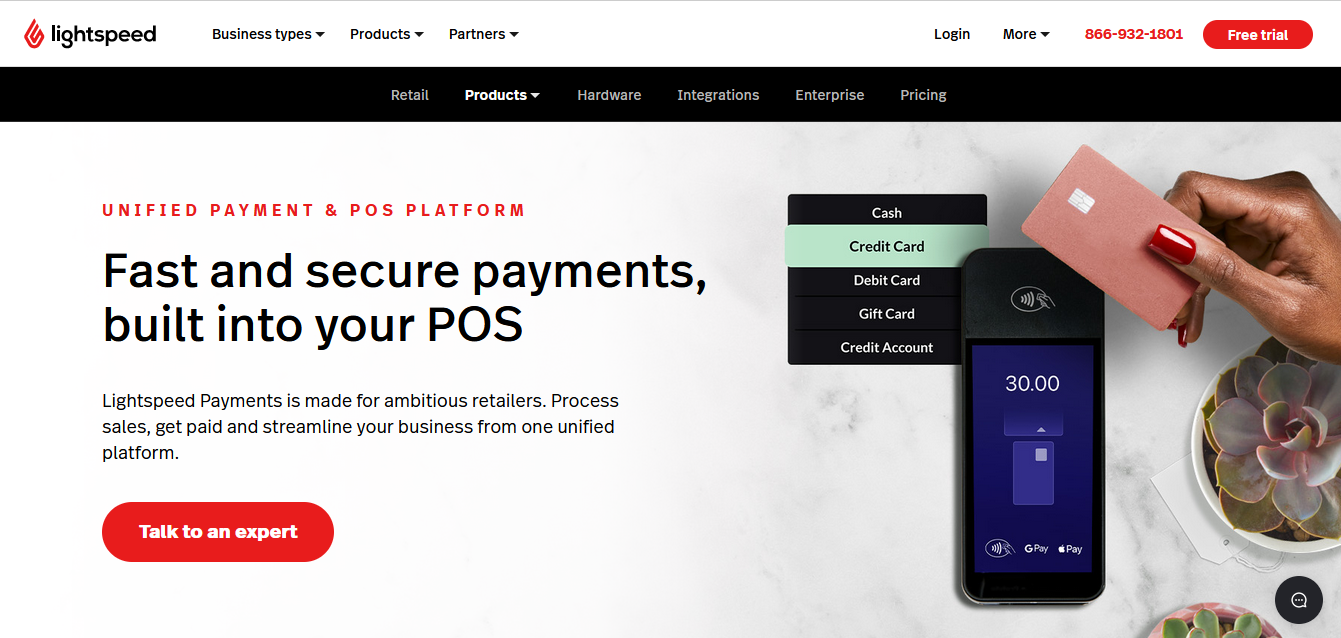 Lightspeed Retail provides advanced inventory management tools, including real-time tracking of stock levels, stock transfers, and automated stock counts.
You can categorize products, set reorder points, and receive notifications when it's time to restock.
If you operate multiple retail locations, Lightspeed Retail allows you to manage all your stores from a centralized dashboard.
You can transfer inventory between stores, view consolidated sales data, and maintain consistent pricing and product information.
Lightspeed Retail seamlessly integrates with Lightspeed eCom, the platform's e-commerce solution, to provide a unified online and offline shopping experience.
This integration enables you to sync product information, inventory, and customer data across your physical and online stores.
Customer Relationship Management (CRM):
Lightspeed's CRM tools help you build and maintain strong customer relationships.
You can track customer purchase history, set up loyalty programs, and send targeted marketing campaigns.
The POS system offers a fast and efficient checkout process, supporting various payment methods, including credit/debit cards, cash, and mobile payments.
You can split payments, apply discounts, and generate digital or printed receipts.
Lightspeed Retail allows you to create employee profiles, assign roles and permissions, and track individual sales and performance.
You can also manage employee schedules and payroll.
Access a wide range of reports and analytics to gain insights into your business performance.
Generate sales reports, track inventory turnover, and monitor customer behavior to make data-driven decisions.
Customization and Integrations:
Customize your POS interface to suit your business needs, rearrange buttons, and add shortcuts for faster transactions.
Lightspeed Retail integrates with various third-party applications and services to extend its functionality, such as accounting software and e-commerce platforms.
Purchase Orders and Vendor Management:
Streamline your purchasing process with Lightspeed Retail by creating purchase orders, managing suppliers, and tracking order statuses.
You can receive stock, update inventory levels, and reconcile invoices with ease.
Customer Support and Training:
Lightspeed offers customer support and training resources to help you get the most out of the POS system.
This includes online tutorials, webinars, and a dedicated support team.
Security and Compliance:

Lightspeed Retail POS is designed with security in mind, offering features like user permissions and secure payment processing to protect sensitive data.
It complies with industry standards and regulations, including PCI DSS for payment security.
Pricing Plans for Lightspeed :
Lightspeed offers three main pricing plans for its e-commerce platform: Standard, Advanced, and Pro.
The Standard plan starts at $59 per month, while the Advanced plan is priced at $119 per month.
Lightspeed's Pro plan, which includes more advanced features, is available at a custom price tailored to your specific business needs.
Lightspeed also offers add-ons like Lightspeed Payments and Lightspeed Loyalty for additional functionality.
NOTE: FOR PRICING PLAN PLEASE VISIT LIGHTSPEED OFFICIAL WEBSITE ALSO
Introduction

Shopify: Simplicity and Scalability
Shopify is a household name in the e-commerce world, known for its user-friendly interface and scalability. It caters to businesses of all sizes, from startups to enterprises. Shopify's strength lies in its simplicity and the vast ecosystem of apps and themes available to extend its functionality.
Shopify is a leading e-commerce platform that has revolutionized the way businesses create, manage, and scale their online stores. Since its inception, Shopify has emerged as a go-to solution for entrepreneurs and established brands alike, offering a robust and user-friendly platform that empowers individuals and businesses to sell products and services online with ease. With its intuitive drag-and-drop website builder, a vast library of customizable themes, and a comprehensive suite of tools for inventory management, payment processing, and marketing, Shopify provides a versatile and accessible platform that caters to a wide range of industries and business sizes. Whether you're a small startup looking to establish an online presence or a multinational corporation seeking to expand your e-commerce operations, Shopify's flexibility, scalability, and commitment to innovation make it a top choice for those venturing into the digital marketplace.
Key Features of Shopify:
Shopify is a popular e-commerce platform known for its user-friendly interface and robust features that enable businesses to create and manage online stores effectively. Here are key features of a Shopify store: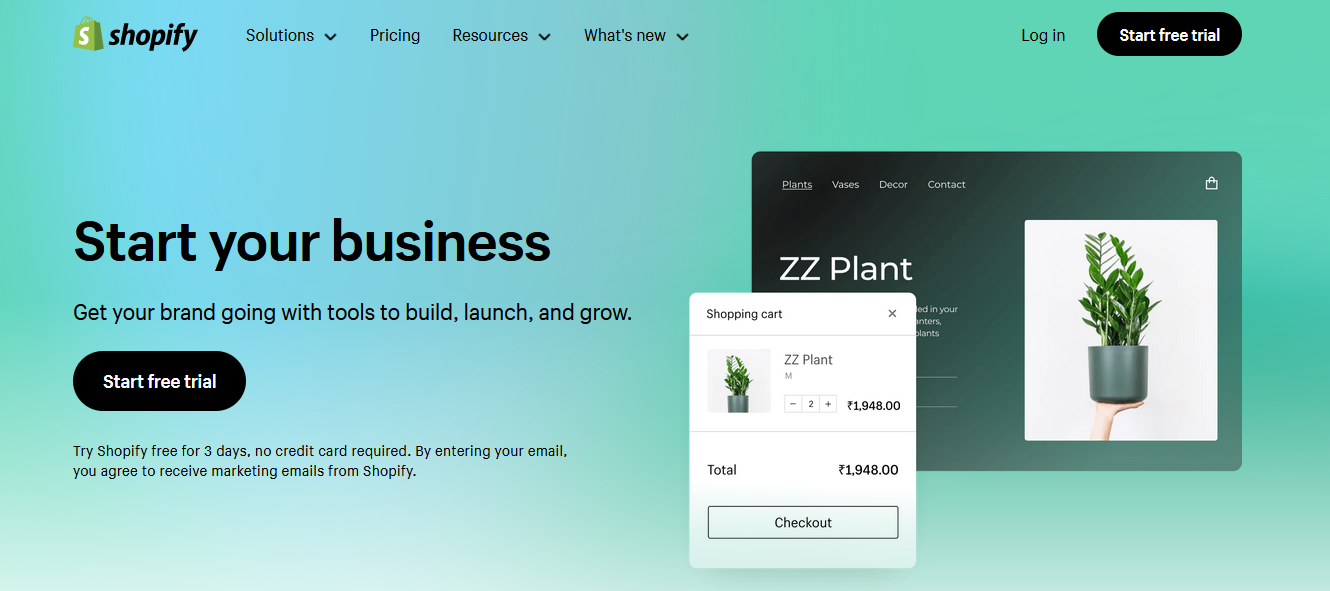 Shopify offers an intuitive and easy-to-use dashboard, making it accessible for users of all technical levels.
Choose from a variety of professionally designed themes, and customize them to match your brand's identity.
Full access to HTML and CSS allows for advanced customization.
All Shopify themes are mobile-responsive, ensuring a seamless shopping experience for customers on smartphones and tablets.
Easily add, edit, and organize products, including images, descriptions, and pricing.
Create product variations, bundles, and product reviews.
Track stock levels in real-time.
Set up automatic low-stock alerts and out-of-stock notifications.
Manage multiple product variants and SKUs.
Shopify Payments: Shopify's integrated payment gateway simplifies transactions and offers competitive processing rates.
Support for third-party payment gateways, including PayPal, Stripe, and more.
Secure and reliable shopping cart functionality for a seamless checkout experience.
SSL encryption ensures data security during transactions.
Shipping and Fulfillment:
Set up custom shipping rates, calculate shipping costs, and offer various shipping options.
Integrations with major shipping carriers for real-time shipping rates and label printing.
Built-in SEO features, such as customizable meta tags, alt text, and clean URLs, to optimize your store for search engines.
Built-in marketing tools, including discount codes, gift cards, and abandoned cart recovery.
Integration with email marketing services and social media platforms.
Access detailed reports on sales, traffic, and customer behavior.
Use data-driven insights to make informed business decisions.
Maintain customer profiles and order histories.
Set up customer accounts and offer a guest checkout option.
Shopify's App Store offers a wide range of apps and integrations to extend your store's functionality.
Add features like reviews, live chat, and advanced analytics.
Sell on multiple channels, including social media (Facebook, Instagram), marketplaces (Amazon, eBay), and in-person (with Shopify POS).
Multi-Language and Currency Support:
Reach international customers with multiple language options and currency conversion capabilities.
Pricing Plans for Shopify :
Shopify offers three main pricing plans: Basic Shopify, Shopify, and Advanced Shopify.
The Basic Shopify plan starts at $29 per month, making it an affordable option for small businesses.
The mid-tier Shopify plan is priced at $79 per month, offering more features and customization options.
The Advanced Shopify plan, tailored for high-growth businesses, starts at $299 per month.
Additionally, Shopify Plus is available for enterprise-level businesses at a custom price.
NOTE: FOR PRICING PLAN PLEASE VISIT SHOPIFY'S OFFICIAL WEBSITE AS WELL
Lightspeed Shopify: A Comparison
Now, let's take a closer look at the key differences between Lightspeed and Shopify, especially for businesses caught in the "Lightspeed Shopify" dilemma.
Inventory Management:
Lightspeed is exceptionally strong in inventory management, making it ideal for businesses with complex inventory needs.
Shopify also offers inventory management but may require additional apps for advanced functionalities.
Ease of Use:
Shopify is known for its user-friendly interface, making it a top choice for beginners.
Lightspeed may have a steeper learning curve, particularly for businesses new to e-commerce.
Customization:
Both platforms offer extensive customization options, but Lightspeed's customization may require more technical expertise.
Pricing:
Lightspeed's pricing plans start slightly higher than Shopify's, but they include powerful features like integrated POS systems.
Shopify's affordability and scalable pricing make it an excellent choice for businesses looking to grow without breaking the bank.
Industry Focus:
Lightspeed is well-suited for retail, hospitality, and automotive businesses.
Shopify is a versatile platform that caters to a wide range of industries, including fashion, electronics, and digital products.
Lightspeed Shopify Integration: Integrate both platforms using third party applications
The Lightspeed Shopify Integration by SKUPlugs is a powerful solution designed to seamlessly connect your Lightspeed POS system with your Shopify online store, streamlining your business operations and enhancing your e-commerce capabilities. With Lightspeed Shopify Integration, you can effortlessly synchronize product data, inventory levels, pricing, and order information between these two platforms in real-time, ensuring accuracy and consistency across your retail and online channels. This integration eliminates the need for manual data entry, reduces the risk of errors, and allows you to focus on growing your business while SKUPlugs handles the technical complexities. Whether you're a small boutique or a large-scale eCommerce enterprise, Lightspeed Shopify Integration by SKUPlugs is the key to optimizing your online and in-store presence for increased efficiency and improved customer satisfaction.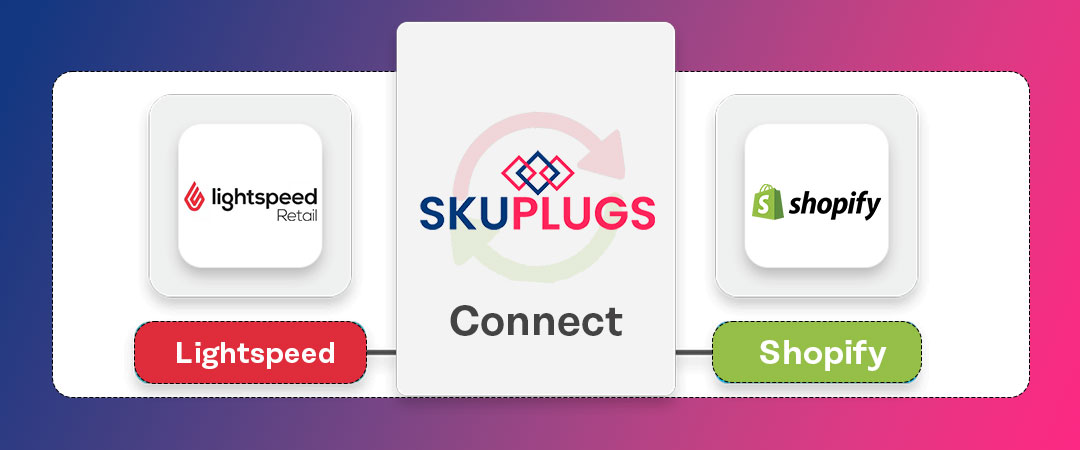 Conclusion
In the "Lightspeed POS Shopify" battle, the right choice ultimately depends on your business's unique needs and goals. Lightspeed excels in inventory management and serves industries with specialized POS requirements, while Shopify shines with its simplicity and scalability, making it accessible to businesses of all sizes. Consider your budget, industry, and desired features when making your decision, and don't hesitate to explore free trials or consult with e-commerce experts to determine which platform best suits your business aspirations. Both Lightspeed and Shopify have proven track records of helping businesses succeed in the ever-evolving world of online commerce.