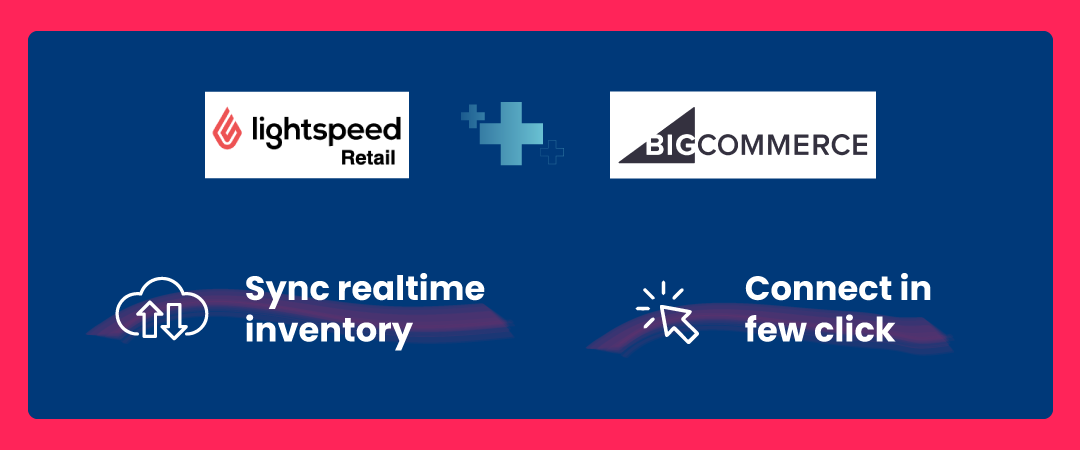 How do I Connect and Synchronise Data Between Lightspeed and BigCommerce?
Expanding the business online is one of the most fruitful ways to give the business an increasing boost. Most people around the world now conduct local online searches for dependable services and products. Selling items online extends the customer base, creates brand awareness, increases sales, and expands business success and growth.
If you are thinking about creating your own online store, then Lightspeed and BigCommerce integration are the right choices for you. By integrating these platforms, you can quickly and conveniently synchronise different sorts of data between BigCommerce and Lightspeed Integration.
It is simple to access data outside of lightspeed.
Most businesses find it extremely challenging to get their data out of Lightspeed. They keep looking up and changing their practises to easily handle the complicated business logic and processes. Standard and complex integrations are the one-stop solution to simply get the complex data out of Lightspeed. It helps to automate challenging and important business processes.
The integration will help you securely connect and get access to your crucial information. You will be able to save valuable resources and quality time. You can sell more on multiple channels and more efficiently manage your business.
Seamlessly integrate BigCommerce and Lightspeed
Are you tired of manually entering huge amounts of data and resolving human errors? Connecting Lightspeed and BigCommerce will provide the best solution to this problem by automating the process. It aids in the avoidance of double entry. All types of information sync automatically between your point of sale and eCommerce. Not just this, but BigCommerce integration with Lightspeed will benefit your business and its productivity in lots more ways. Keep scrolling to discover them.
Automated inventory workflows
Integration allows you to sync your inventory to avoid stockouts and save valuable time. You will be able to accurately maintain the stock level as inventory levels keep updating automatically whenever any item is sold or received.
Customer Experience
To attract more customers, you must provide them with a better service and experience. Connecting the point of sale and your eCommerce platform will provide a seamless omnichannel experience for clients and consumers. This improves customer interactions and extends the customer base.
Only make products once.
Integrating BigCommerce and your Lightspeed Retail platforms will eliminate the need to create products multiple times. Items added to your Lightspeed point of sale will automatically sync with BigCommerce. It's up to you to decide which products to share with BigCommerce.
Prevent Overselling
When opting for the integration of these two widely used platforms, inventory management becomes child's play. It will make it easier for you to keep track of sales. Accurate tracking and management of sales help in effectively managing orders, inventory, and sales data, thereby preventing overselling.
Increased Revenue
Easily accessible customer data, inventory management, sales management, order and product syncing, reduced manual work, and no overselling will expand the sales reach to a wider level. Automated processes, no human errors, and reduced costs eventually boost business revenue and growth. You can securely process an extensive amount of data. You can completely trust your data with real-time updates.
Free Integration of Your Lightspeed and BigCommerce Platforms
If you are making up your mind to try Lightspeed BigCommerce Integration and see its impact on your business growth but are confused if it is worth considering or not, then go for the free trial package. You don't need to burn a hole in your pocket to get an estimate of the benefits of this integration. You can apply for a 15-day free trial that doesn't require any payment in advance.
You can register freely with no setup fee. Integration is possible with just a few clicks. You can simply connect and configure BigCommerce and Lightspeed together within five minutes. So, choose your free trial pricing plan that comes with unlimited orders, unlimited products, 1 integration, no percentage of transaction fees, and great customer support over email and chat.
Conclusion
If you no longer want to wait to start managing your physical store and online business as one, then look for reliable integrated services. The reputed company provides integration that can be simply managed and scaled according to your business requirements. You will enjoy a best-of-all integration solution designed on the basis of advanced technology. You will get a detailed insight into your business with a real-time view of sales and business performance.