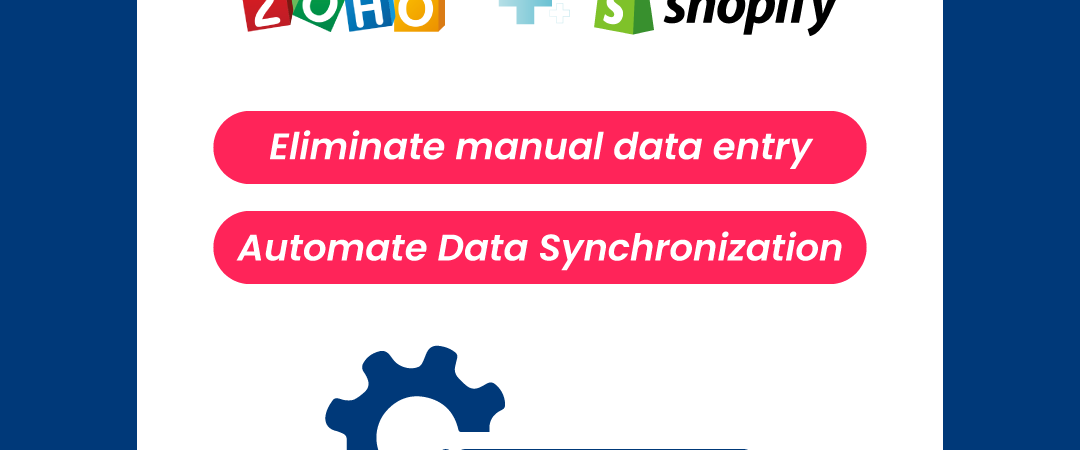 Zoho Inventory Integration with Shopify Stores: Know All About It!
The key to business success is reaching more customers and selling more products. The advancement of internet technology is a boon for businesses, as it allows them to reach a large number of potential consumers at the same time without making a huge investment in marketing tools and strategies. To rule over the internet world, you would require an e-commerce platform. Shopify is a widely used e-commerce shopping cart that you can use to start your business online in no time. Zoho Inventory is the most useful inventory management software to boost sales volume and keep track of all units with order fulfillment, stock management, and inventory control. SKUPlugs provides the best Zoho Integration with Shopify that can take your business to another heights.
Why Should You Integrate Zoho Inventory with Shopify?
Shopify makes it simple to start a business and create an online store the way you want it. It supports both physical location and online sales via POS apps, point-of-sale hardware, and more supporting hardware. Even if you can customise existing stores using APIs, managing stock and inventory becomes easier.
Zoho Inventory, which equips users with all the essential apps and tools for the smooth running of a business, is a powerful suite. It helps with the maintenance of strong customer relationships and accurate custom reports and analysis.
Combining these popular platforms is surely a win-win situation for businesses. Zoho Inventory Shopify Integration helps with increased sales and excellent data synchronization between both platforms. By integrating these two platforms, you can enjoy the benefits of both and increase your online sales.
Who Can Benefit from This Integration?
As you read above, Shopify and Zoho Inventory are both the most useful platforms for online retailers and businesses. Shopify and Zoho Inventory sync automate inventory management in online stores and save quality time. Integrating these two platforms is a fruitful strategy for business owners who are selling their merchandise online or planning to establish an online store.
Alongside business owners, service-based businesses that want to expand their expertise level online to extend their customer base can also benefit a lot from this integration. Retailers looking for the best solution for Shopify and Zoho Inventory Management can meet their needs with integration. It allows for easy management of multi-channel sales and inventory.
How this Integration Can Benefit You?
If you are wondering whether opting for the Zoho Inventory Shopify integration service is worth considering or not, then walk through the following benefits.
1. Sync items and orders

By integrating Zoho and Shopify, you can ease the sync process. All the products will sync from Zoho Inventory to Shopify. It will also sync Shopify orders into Zoho Inventory.
2. Integrate Multiple Shopify Stores

not just a single store, but you can connect several Shopify stores with one Zoho Inventory account. Most businesses opt for this process because it helps sync products and orders from various online stores into Zoho's inventory all at once. This eventually saves valuable time, money, and human effort.
3. Automate the sync process.

Based on your requirements, you can manually and automatically update your organization at any time. The Shopify sales details are reflected as sales orders while you sync. The automated sync cycle automatically keeps your organization up-to-date with certain Shopify accounts. The integration automates the sync process not just for selected items but for all products from Zoho to Shopify.
4. Save money and time.

Another major advantage of integrating these two widely used platforms is the better utilization of valuable resources like time and money. Accurate inventory syncing helps in avoiding overselling and manual errors. On the other hand, correcting human errors requires huge resources. So, to avoid costly errors, integrate your Zoho Inventory with your Shopify store.
How to Set Up Zoho and Shopify Integration
Integrating Shopify with Zoho Inventory is an easier process that can be implemented in just a few steps. First of all, create a SKUPlugs account with the essential information required. Next, login into your SKUPlugs account using the valid details. Now, connect your Zoho inventory and then configure it based on your specific business requirements. At last, connect your Shopify account and configure the fields. Here, you need to specify the way you wish to sync the product details from Zoho Inventory to Shopify. Zoho Shopify integration has a lot more to offer. So, choose reliable integration services that provide secure solutions with live monitoring and support.
Get in Touch with our efficient 24*7 support here