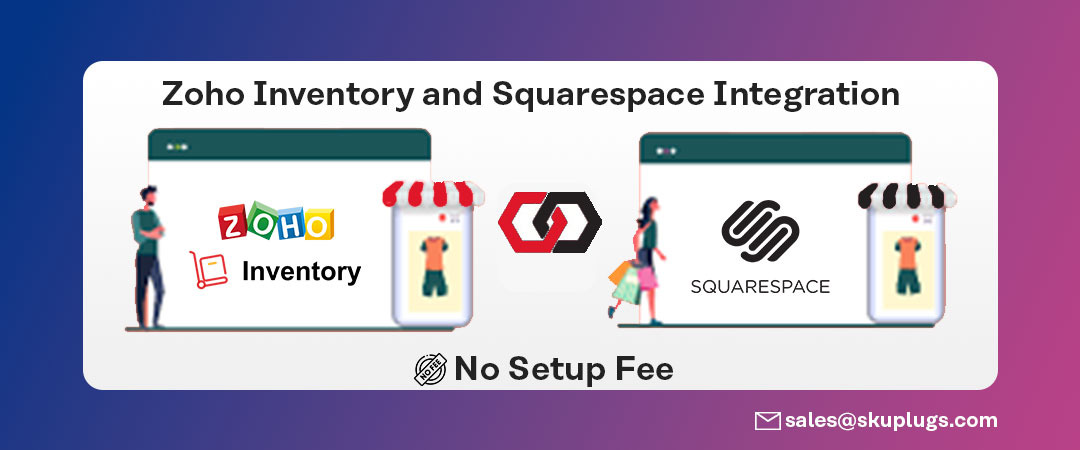 Keep Your Squarespace Website Updated By Integrating With Zoho Inventory
With the business growth and achievement of the milestone, there is a need to update the website by refreshing its content. Updating your Squarespace website by sharing some new products or services or good news like special discounts, business growth, etc. will keep your customers engaged. It will give them a new reason to keep visiting your website. This eventually provides the ability to convert regular visitors into potential customers and loyal buyers. There are many more potential benefits to updating your website for your business. If you're struggling with the complexity of updating your Squarespace website regularly, then Squarespace integration with Zoho Inventory might be the best solution you need. Read on for insights about how often you should update your Squarespace website and how Zoho Integration with Squarespace can help you with it.
How Often Should You Update Your Squarespace Website?
Well, the answer depends on your business type and size. For example, if you run a business that has more potential for new product launches or operational changes, you will need more frequent website updates, mainly monthly. E-commerce websites or online stores that sell any products should schedule time on their calendar for regular website updates.
Squarespace doesn't need plugin updates or software But it is recommended to keep reviewing your Squarespace website analytics and content for possible changes. The analytical reports help determine the frequency of website updates and redesigns. Consider redesigning a specific webpage or a whole site based on the requirement to match the latest design trends.
Squarespace Website Integration with Zoho Inventory
To keep your Squarespace website updated with no hassles and no time consumption, integrate Zoho Inventory and Squarespace through configurable integration. Both of these platforms are integrated through APIs. Zoho Inventory is a reliable cloud-based inventory management software designed specifically for small and medium-scale businesses to boost their sales and effortlessly manage their stock, inventory, and order fulfillment. It helps companies automate their business operations and focus on developing more quality products or services to meet customers' rising demands.
How Can Squarespace and Zoho Inventory Integration Help with Website Updates?
The comprehensive integration process will automate all the important business operations while saving time, manual effort, and other valuable resources. It helps sync product data with the Squarespace e-commerce website and sales order and customer data to Zoho Inventory.
Receiving a regular stock sync will keep your inventory updated and help prevent under- or overstocking. You will not need to employ a team, specifically for unlimited order processing, unlimited catalogue processing, and inventory management. All these tasks will be performed automatically. There will be no need for manual data entry.
The seamless integration will improve your sales by ensuring an excellent customer experience. Customers will be more satisfied when they get updated orders, products, and other related information on the website. All web-enabled inventories can be synced easily from Zoho Inventory to Squarespace.
Other Benefits of Integrating Squarespace and Zoho Inventory
Improved customer buying experience
The automated process prevents delays from the time customers place an order to when shipping is done. Whenever the orders are processed, they are sent for shipping immediately. This improves customers' purchasing experience and satisfaction.
Effective decision-making
Updated and accurate inventory levels allow employees to get precise information in real-time on product availability and inventory status. Hence, changes can be applied automatically and accordingly. Real-time insights provide the ability to make effective decisions.
Competitive benefits
The seamless integration can provide your business with a great competitive advantage by allowing you to easily reach your prospective customers through regularly updated websites and automated processes. The real-time visibility of products and orders will have a positive impact on customers. Hence, it will make you more reliable than your competitors.
Different Ways to Integrate Zoho Inventory and the Squarespace Website
Zoho Squarespace integration can be connected in multiple ways. It can be done by choosing your favorite app from thousands of ready-made applications. Other options include using a no-code toolkit to connect to applications and installing a plugin to establish the connection.
Among all, the most reliable method includes using an e-commerce integration platform that provides ERP or POS integration with several shopping carts to save time and other important resources. After Squarespace's integration with Zoho Inventory, you can use all features of Zoho Inventory on your Squarespace site without requiring any coding or programming. All your data will be synced between these integrated platforms without losing any information.
What's the Best Way to Integrate Squarespace and Zoho Inventory?
SKUPlugs lets businesses integrate their Squarespace e-commerce or another website with Zoho Inventory in just a few clicks and a couple of minutes. This is a leading e-commerce integration platform that facilitates seamless integration for busy retailers or business owners.
SKUPlugs syncs product details, orders, sales, and other data between integrated platforms to automate the process. Moreover, it lets you focus on the most significant tasks. The integration will be set up in a few minutes with no upfront cost by implementing a three-step process, without requiring programming skills or special know-how. You can enjoy integration benefits without requiring any annual contracts or credits.
Steps for Zoho Inventory and Squarespace Website Integration
Connect both platforms.
After signing up with SKUPlugs and authenticating your Zoho Inventory and Squarespace accounts, you can allow Zoho Inventory and Squarespace integration with a few clicks using the easier user interface. You would not need to install any plugins.
Configure Squarespace and Zoho Inventory
After connecting both platforms, it's time to configure them with each other based on your business needs.
Apply the sync rules.
Finally, apply the syncing rules to let the syncing process begin automatically in the background and automate your business workflow.
Get a 15-day trial! Start with a 15-day trial plan to get insight into how Squarespace integration with Zoho Inventory works and how it can benefit your business. The trial is available with no integration setup charges, no percentage of transaction fees, and no hidden costs.