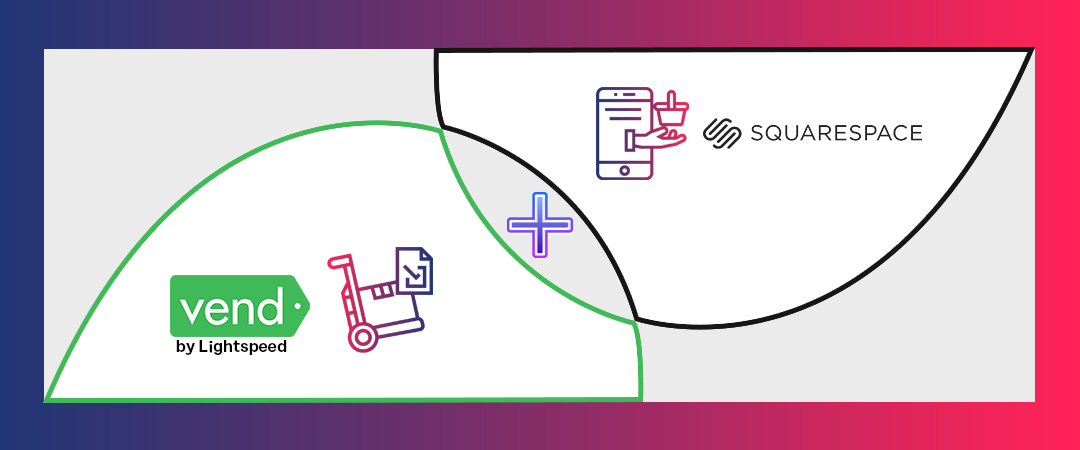 Lightspeed (X Series) Or Vend Integration With Squarespace – Know All About It
Growing a business is difficult without having an online presence. However, it is not necessary to sell your products on several online shopping portals. But, you can expand your presence on online platforms with online marketing. Shoppers are moving towards online search tools to locate nearby stores to purchase products offline. That's a reason why nearly every company or store is appearing on the internet world to quickly reach their prospective customers before rivals. Vend (Lightspeed X-Series) Squarespace integration is an ideal way for business management and growth.
What is Vend (Lightspeed X Series)?
This is a cloud-based point-of-sale (POS) and retail management software that retailers use to effectively run their business online, through mobile or in-store. You can sign in and start working from anywhere. It has partnered with the most useful and rewarding website building platform – Squarespace to create an integrated solution for businesses to provide their products and services online. Accepting payments, managing inventory and customer details, and monitoring business performance turn into a simpler process with Vend POS software.
Special Features of Vend
Inventory tracking and optimization
Inventory management
Timely reporting and analytics
No limit to products and numbers of users
Automatic cloud backup
Multi-channel management
For more details please visit
Vendhq Official Website
What is Squarespace?
This is the all-in-one platform used to design and develop a website without requiring any coding or programming knowledge. To use this platform, you don't require any expertise as you can simply and quickly design a website. All you require is to create an account, select the most appropriate template, and then start editing as per the requirement. You can choose from an extensive set of best-in-class templates for your website. Once you find the right one, start customizing the design to better fit the professional needs and personal style.
Using the Squarespace website offers a fine suite of the most useful guide and integrated features that improve prominence among search results. By integrating popular apps with the Squarespace site, you can get access to several tools you utilize. And, all of them will be available in a single place.
Key Features of Squarespace
The best features of Squarespace are as follows –
Appointment tools
Website analytics and reports
Pre-build layouts
Checkout payment and taxes tools
Email marketing tools
Custom redirects
POS extensions
Design panel and design tools
Built-in mobile websites
Award-winning round-the-clock support
SEO solutions
Customizable page and content layouts
And lots more.
For more details please visit
Squarespace Official website
Integrate Vend (Lightspeed X Series) and Squarespace
Integrating Vend POS (Lightspeed X Series) and Squarespace is a must to push all inventory to Squarespace. It helps in automatically updating inventory to Squarespace. Thereby, reducing costly errors and saving time and effort. With the growth of Vend sales volume, managing everyday orders and inventory becomes too challenging. At that time, you will need Vend Integration with Squarespace. It keeps Vend well updated.
Manually performing these processes will lead to mistakes. Hence, it's good to integrate both platforms. The automated process sync product catalog information from Vend to Squarespace. It also helps in syncing sales orders from Squarespace to Vend.
Benefits of Integrating Vend (Lightspeed X Series) with Squarespace
Managing an online store or business with any number of brick-and-mortar Vend stores becomes easier by integrating Vend and Squarespace. It benefits retailers in a number of ways including but not limited to the following.
Sync your Vend inventory to keep it 100% accurate across every Vend POS store, marketplace, and online sales channel in real-time
Instantly updates stock levels everywhere to avoid overselling
Update all the Vend product pricing
Automatically take orders from Squarespace and submit them into Vend POS with customer details.
Keep inventory well balanced by creating product bundles
Ship online orders in-store using inventory stored in any of the brick-and-mortar stores
So, as you can see integration of these two platforms offers a wide variety of benefits to businesses and customers. Retailers save the time, effort, and cost of hiring the most capable employee as the entire process is performed automatically.
A single integrated platform will take care of everything. Vends' storefront is designed considering user experience. Thus, customers can easily and quickly find what they're looking for. If Vend Squarespace Integration seems intimidating and complex, then try SKUPlugs' integration platform to automate the workflow.
Wrapping Up Lightspeed (X-Series) is the strong spinal cord of business that plays a crucial role in almost every aspect of the business. Vend (Lightspeed X-Series) Squarespace integration or Vend Squarespace integration provides the tools and solutions every business needs to reach the potential audience, engage them, boost sales, and stay ahead of the strong competition. Do you need a plan or a package for the integration of these platforms? Choose a reliable integration service provider and start with a free trial to analyze the quality of services before making any investment. Don't forget to check the features.