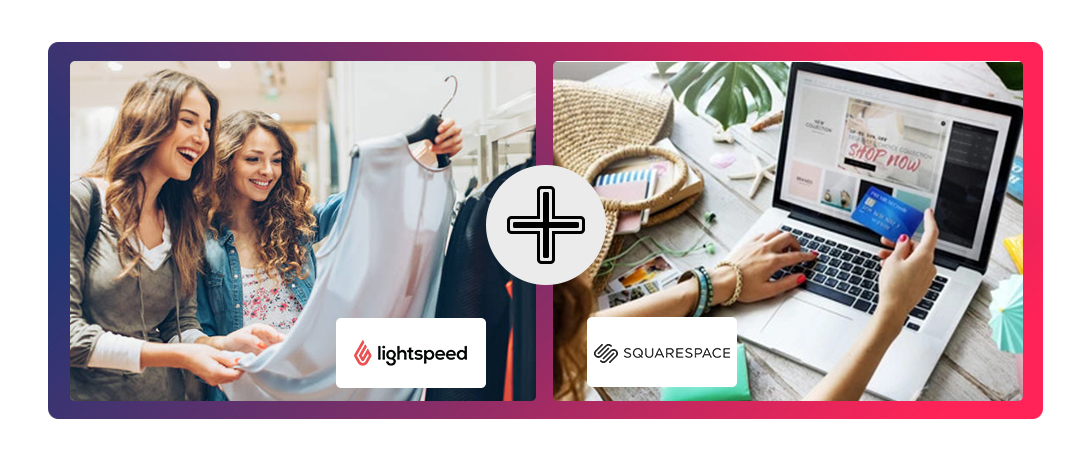 The internet is a huge place that continues to grow each year. The economic crisis due to COVID-19 has shaken up the business landscape by accelerating the shift to a digital environment. Post-COVID, both B2B and B2C businesses have understood the significance of implementing a digital-first strategy. You can automate your business and improve your sales by using Lightspeed Squarespace Integration.
The number of online shoppers is estimated to go beyond more than 200 million by 2025. However, it is not that easy to make a business presence online and grow successfully. You require a proper marketing strategy to reach the potential audience and boost online sales.
SKUPlugs provides real-time and Comprehensive integration of Squarespace and Lightspeed without the need for manual data entry and increases productivity and growth.
Most brands are having an e-commerce site built using the widely used software of Squarespace. It provides the best all-in-one solution for creating a customizable website or online store. Lightspeed is the most beneficial software for various types and sizes of retail businesses. And, Lightspeed Squarespace integration forms the base of online business growth by giving a significant boost to online sales.
What is Lightspeed Retail Point of Sale (POS)?
Lightspeed is a leading retail point-of-sale (POS) system that can be accessed from anywhere and at any time. With 24/7 customer service, beneficial integrations, and brilliant features, Lightspeed retail POS is a perfect option for all sizes of businesses. This cloud-based point-of-sale system provides business owners with hardware and software solutions to let them effectively run transactions.
What do you mean by Squarespace?
Turn your idea of creating an online store, professional website, and/or portfolio into reality using Squarespace. Launched in 2003, Squarespace is a website builder used to design a website. One of the major advantage is that anyone can use it as it does not require any coding knowledge. The website designed using Squarespace is good not only for SEO but also for helping business owners stand out unique from the crowd by getting a competitive edge.
Squarespace is an all-in-one system for creating a comprehensive online store. It is equipped with plenty of excellent features. This includes Point of Sale extensions, e-commerce templates, social media integrations, checkout payment and taxes tools, connected services and experts, domain name registration, and more. It makes it easier to sync your inventory and customer data, whether selling online or in physical stores with the point of Sale in the Squarespace app on iOS.
Why Integrating Lightspeed and Squarespace is a Good Option?
Lightspeed is packed with the amazing latest features and integrations to influence commerce everywhere for all sizes of worldwide retailers. Integrating these two most powerful platforms – Lightspeed and Squarespace will convert your browsers into prospective buyers by better optimizing your physical and online stores. This will help you in making an impressive first impression that your customers will never forget.
Here are some key reasons that state why you must opt for Squarespace integration with Lightspeed.
Integrating Lightspeed and Squarespace will result in the integration of multiple e-commerce platforms together. This will eventually help you to work with the leading retailers from India and other nations of the world.
Elevate Business Strategy
The new Lightspeed retail commerce platform combines an advanced point-of-sale system, e-commerce solutions, and payments into a unified solution. This enables businesses to improve their strategy while managing the difficult challenges of changing retail landscape.
No Stress of Integration Maintenance
Lightspeed Squarespace integration will help you get rid of the stress of regular integration maintenance. The reason is that it allows users to forget about the need to support and update the connection every time the latest edition of platforms appears.
Reach Potential Customers
Another major perk of this integration service is that you can reach your potential customers no matter whether they're i.e. online or in brick-and-mortar stores. This time-saving and direct integration provides the flexibility to promote and sell products on various platforms even on social media channels such as Instagram, Facebook, etc. A single viewpoint for orders and inventory provides the ease to reach the target audience by accessing the areas where they spend most of their time on the internet.
Taking reliable services of Lightspeed integration with Squarespace helps with overall and the most effective management of store data. They offer multiple methods to work with orders, products, customers, categories, and shipment information obtained from online stores.
There is no need to manually synchronize your POS/ERP product data with the Squarespace store. Integration of Squarespace and Lightspeed will do it automatically. Even it also synchronizes the sales order and customer information to the linked ERP or POS.
Squarespace integration with Lightspeed provides unique services to effortlessly connect with your retail point of sale account. This eventually helps you to improve your productivity and run your business at full capacity.
With Lightspeed and Squarespace integration, you can configure both of these platforms as per your business requirement. Also, you can set the syncing rules the way you need.
The Clock Customer Support
The leading companies are always ready to help their clients with any issues or obstacles associated with integrating Lightspeed and Squarespace. The supportive team members are available to help 24/7 for both Squarespace and Lightspeed. You can reach them through phone calls, email, or chat.
No Plugin Installation is Required
To connect with Lightspeed Point of Sale, there is no need to install any plugin. What you require is to authorize the application to connect with your Lightspeed.
Another reason why you must opt for Lightspeed integration is that it allows users to use any certain price level for the products of their connected carts. There will be all the price levels created in the Lightspeed to be used for the connected carts.
How Squarespace Integration can help in Sync?
Squarespace integration provides the ultimate solution in terms of syncing POS/ERP product data with the Squarespace store automatically. That means, there is no need of putting in a manual effort. Even it also reduces the need for manual double-entry. Moreover, the integration services also help sync simple and varied products. You can also sync prices, inventory, and product details from Point of Sale to the Squarespace store. The integration will also sync multi-level products' prices. Overall, it can be said that integration provides a comprehensive solution when it comes to syncing something related to online stores.
What does Lightspeed Squarespace Integration Covers?
It is quite easy to integrate Lightspeed Squarespace as it can be done in just a few clicks. Both platforms can be connected and configured within just a couple of minutes (hardly 5 minutes). Even renowned and trustworthy companies allow free trials for some days and also do not charge any setup fee. And the best thing is that you'll get every solution. It includes easier management of products, sales orders, Meta description, inventory, tags, customers, and product type.
Some of the best features of Squarespace integration with Lightspeed are listed below –
No double entry of data is required
Sync simple and varied products
Avoid errors
Sync product prices, product information, and inventory details from Lightspeed to the Squarespace store
Save time and important resources
Sync Lightspeed custom fields and Squarespace store
Submit Squarespace customers and orders to Lightspeed
Sync prices of multi-level products, their meta descriptions, and tags
Round-the-clock support from experienced and specialized experts
Rounding Up After the COVID-19 lockdown, many people who used to buy from the market are now turning into loyal online shoppers. By implementing the fundamental strategy of Lightspeed Squarespace integration, you can capture the benefits of this trend for increased sales, better revenue, and more success. So, look for a reliable company offering the satisfactory service of Lightspeed Squarespace integration. It will allow you to implement the connection with several e-commerce platforms.