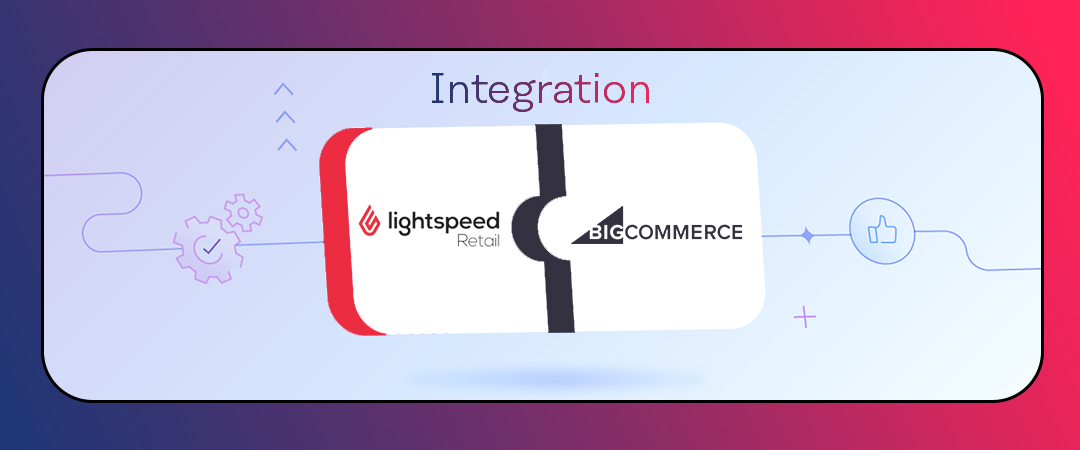 Lightspeed POS is a known name for retail businesses. Lightspeed is known for its products serving merchants at the physical stores and customer support. The cloud-based POS solution provider can be utilized by merchants for managing physical store as well as online stores and generate recurring revenue. Our comprehensive Lightspeed Bigcommerce Integration solution enables you to take control and automate your Lightspeed & Bigcommerce inventory so you can spend more time growing your business and less time on manual data entry.
The prime task of the Lightspeed integration is to mirror the product details from Lightspeed to the Bigcommerce store. Our Lightspeed Integration will automatically sync inventory with your Bigcommerce store and Order, Customers from Bigcommerce to Lightspeed POS. Every transaction and every edit will be reflected on Bigcommerce instantly. You can choose to do it automatically or initiate it yourself. Your inventory counts will always be accurate and up to date no matter how many channels you're selling across. With Bigcommerce and Lightspeed Retail POS Integration, our system extract product details from the Lightspeed retail POS. Lightspeed Cloud-based APIs allow the platform to exchange every information related to the product like:
Name

SKU

Prices

Sale Prices

Cost

Quantity

Description

Images

Variation details

Dimensions

Category

Supplier and Brand

Other product attributes
The Lightspeed Integration by SKUPlugs checks if the product is available with the Bigcommerce store. If the product is present, the product creation process is skipped and the update process is initiated. If the product is not available on Bigcommerce, the integration process extracts product details and helps to create a new product catalog on Bigcommerce.
The SKUPlugs integration for Lightspeed to Bigcommerce enables your Lightspeed POS and Bigcommerce account to communicate and keep Product details and inventory in sync.
Key features of Lightspeed Bigcommerce integration
Make Lightspeed POS the center of your online business.

Sync your updated product details on Bigcommerce in real-time.

Automatically synchronize Lightspeed quantity on Bigcommerce

Sync Bigcommerce orders information to your Lightspeed.

Sync Customer and payment details from Bigcommerce to Lightspeed

Avoid overselling

Reduce the timing and manpower
Lightspeed Bigcommerce Stock Availability
For eCommerce to be successful, stock accuracy is paramount. For the inventory update, a lot of work is required to keep stock levels in line with in-store availability and to avoid overselling from listing inaccurate figures. To overcome this labour intensive process, SKUPlugs have developed an integration that automatically syncs the inventory numbers and saves time for the Merchant, it also helps your eCommerce provide a better service knowing that the listed stock levels are accurate.
Sync Order & Customer details
Use SKUPlugs's interface and its integration with your fulfillment services to automatically syncs your orders and fulfillment. When a new sale comes in via your Bigcommerce store, order and customer information are recorded within Lightspeed. When a new order arrives via Lightspeed, your Bigcommerce store reflects the same inventory numbers. Any order created at the Bigcommerce end is reflected in Lightspeed and allow merchants to have a track of all their pending, successful orders.
Want to expand your brick-and-mortar retail store to an e-commerce platform Bigcommerce? SKUPlugs saves you hours by updating your inventories between your Lightspeed and Bigcommerce store automatically.