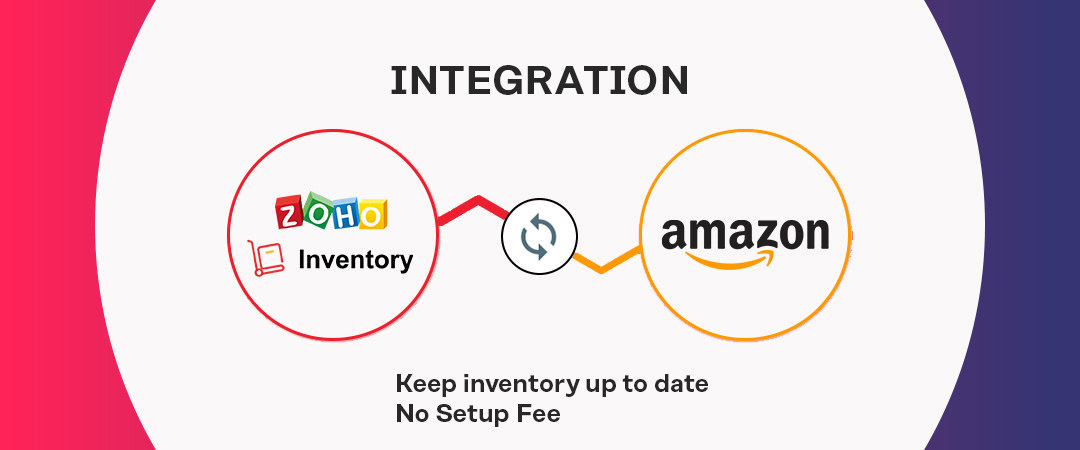 Integrate your Amazon Marketplace with Zoho Inventory and Synchronize Product Inventory and Orders.
Whether selling at one or multiple stores, it is important to keep items, orders, and inventory data precise and consistent with timely updates. Keeping track of all these things manually requires more time and effort. Hence, keeping up with the fast-paced business nature can be a big challenge Zoho inventory integration with Amazon, you can ease this process and keep pace with increasing customer expectations and platform demand.
Don't know what Zoho and Amazon are, and why should you go for their integration? Keep reading this write-up.
Why Is Amazon Integration Important?
Amazon is one of the world's most popular e-commerce platforms for selling and purchasing a variety of products online. From apparel, jewelry, footwear, home appliances, and electronic items to books, a lot more products can be purchased from this platform. Amazon Marketplace by Amazon allows 3rd-party sellers to sell used or new items and gain access to Amazon's wide customer base.
Amazon is expanding its presence day by day at a worldwide level. Hence, the competition to win Amazon's choice and start selling on this platform is increasing at a high level. Amazon integration allows accessing and transferring data between other platforms and Amazon. It helps in easily managing all the data associated with orders, products, categories, inventory, and other important details. The integration comes with a suite of features that save time and manual effort, allowing you to have more time to focus on other business tasks and priorities.
An Overview of the Zoho Inventory
This cloud-based solution helps small and medium-sized businesses manage sales and purchase orders. It offers the complete range of software-based services required to manage the whole supply chain so that businesses don't need to depend on several service providers. It also assists with product tracking, inventory control, multichannel selling, and the warehousing process.
The key reasons why many businesses are opting for Zoho Inventory Amazon Integration are an extensive range of useful features. It includes centralized inventory, real-time shipping rates, order management, safety stock and reorder, order fulfillment, warehouse management, and more.
What Benefits Does Amazon-Zoho Integration Provide
It centralizes all the orders across different sources and categorizes them under the most suitable filters. The classification depends on the current status. It also tracks inventory levels at all times and updates present stock levels on Amazon. There are many more perks to integrating your Zoho inventory with Amazon. These consist of:
Orders and inventory should be synced
Sellers or merchants can sync their products and order details with Amazon. The entire inventory management process can be handled using Zoho inventory. And, the best thing is that you don't need to do all that manually. The automated process will automatically enter the order and item information into Amazon quickly. You can synchronize inventory and pricing levels between these two platforms.
Auto and Manual
The sales details on Amazon are shown as sales orders during the syncing procedure. An automated sync cycle in Zoho inventory will automatically keep everything updated with the Amazon account.
Simple to Use
Amazon marketplace integration with Zoho inventory is quite easy to understand and operate. It will always be of assistance to you. The simpler inventory management system helps track all the sales in real-time. Automatic inventory synchronization provides accurate information about the stock situation and allows restocking accordingly in time.
Sync Amazon Orders and Items once more
Not just once, but you can start a syncing process of orders and products again from Amazon. It will help in getting the products and sales orders brought into Zoho inventory integration at a certain time.
Saving Valuable Resources
Automatic updating of inventory in real-time saves valuable resources such as money, time, and manpower used while performing the tasks manually. Also, it reduces the risk of human errors in handling customer data, product details, inventory, and sales data. Avoiding overselling products and delivering orders on time enhances your company's reputation and increases its chances of success.
The Bottom Line Concluding everything discussed above, integration of Zoho Inventory with Amazon can give a significant boost to your business growth. It can facilitate the smooth running of numerous processes by synchronizing orders and product inventory. Based on the company or integration service you're availing of, you can select to sync just the confirmed orders or confirmed as well as fulfilled orders from the Amazon marketplace to Zoho inventory.
Get in Touch: Start your free trial today