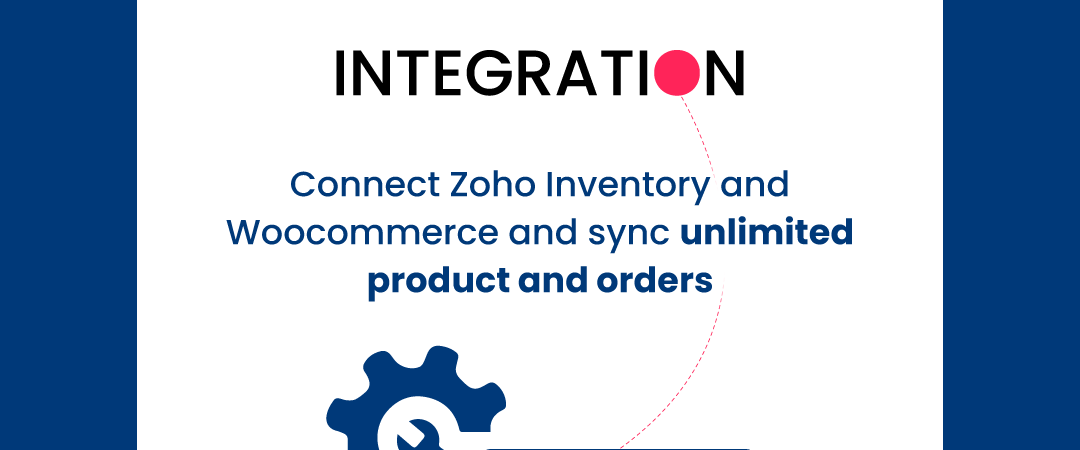 How Can Zoho Inventory And WooCommerce Integration Help You Improve Your Online Sales?
The trend of online shopping is becoming more popular by the day. That's a reason most businesses are opting for platforms that can ease competitive e-commerce journeys. WooCommerce is the widely used e-commerce portal of WordPress. Using this portal, you can easily sell more items to Indian and worldwide customers. Zoho Inventory is another useful tool to manage leads.
Considering the popularity of these two platforms, Zoho Inventory and WooCommerce integration is the best way to improve sales growth. Integrating these platforms will let you use the lead-associated data from Zoho Inventory to reach more customers for your WooCommerce online store.
Key Features of Integrating WooCommerce and Zoho Inventory
Managing orders, sales, and inventory is difficult, especially when you sell products on multiple platforms and in multiple stores.Manually entering the data and cross-checking them for errors take too much time. Staying aware of the sales order generated and avoiding overselling is also quite time-consuming and stressful. To ease all these tasks, it is good to reap the benefits of WooCommerce integration with Zoho Inventory. The integration allows for the syncing of data between both platforms.
The integration provides the ultimate way to connect a WooCommerce online store with Zoho Inventory in real-time. After establishing the connection, you can manage the whole web store within Zoho. Let's look at some of the key features of this integration.
Sync Contacts; The integration process allows adding the whole customer base to Zoho Inventory with a single click. The data of new customers is automatically synchronised during the checkout process.
Sync Items and Orders: After integrating Zoho and WooCommerce, you can automatically sync new and existing items to Zoho Inventory based on certain chosen categories. Once the order has been made, it moves to Zoho as a new sales order.
No Manual Entry: Automatic synchronisation of items and sales orders prevents the need to do entries manually. No matter what the number of entries in your catalogue is, you can sync them quickly and effortlessly without wasting time, money, or energy.
Reduce Human Error: Connecting these two platforms automates inventory and bookkeeping. It prevents human errors by reducing manual entry. Eventually, it saves the cost of correcting errors and business failures.
Automated Order Management Process: This integration facilitates the automated management process of orders. Moreover, you can maximise the sales volume and keep end-to-end tracking of orders generated and sales. Alongside this, you will enjoy warehouse management, account and CRM integrations, and multiple shipping integrations.
Connecting WooCommerce and Zoho Inventory
The integration process is based on the specific use case, what systems you have, and from which company you're availing of these services. The connection becomes easier if you have a simple use case. However, complex use cases may require assistance from experts to ensure effective results with no bookkeeping or inventory errors.
Creating a Zoho Inventory WooCommerce connection requires three steps.
Step 1: Connect: Initially, you have to sign up for a SKUPlugs account. Connect your Zoho account via an API token, and then do the same for WooCommerce as well.
Step 2: Configure: After signing up, you will need to configure the system for both platforms. In a few clicks, you can configure your sync between Zoho Inventory and WooCommerce.
Step 3: Sync: Simply enable sync.
Step 4: The next step is to test the connection in order to avoid errors.It is important to ensure the right information is being sent accurately between Zoho Inventory and WooCommerce. Things that are tested include proper product details, inventory, orders, customers, etc.
Wrapping Up To set up the Zoho Inventory For WooCommerce integration, you must have a WooCommerce account, a Zoho Inventory account, and updated working knowledge of both platforms. If you lack the necessary expertise, contact us and our expert team will assist you in connecting and configuring the platforms together.
Get in Touch with our efficient 24*7 support here
CONTACT HERE FOR 15 DAYS FREE TRIAL