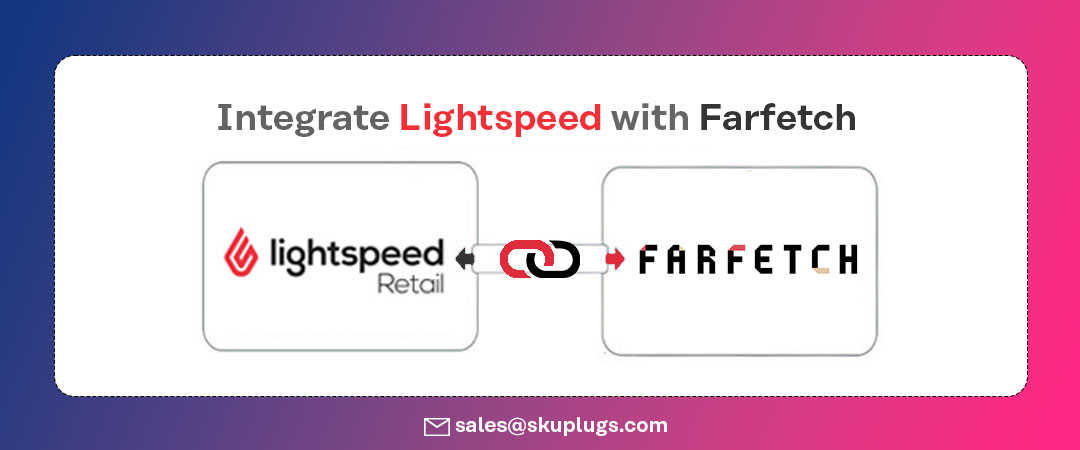 SKUPlugs solution unifies the offline & online store operations by connecting the Farfetch marketplace with your existing physical store setup or online store( developed in Shopify, Magento, WooCommerce and BigCommerce). Farfetch integration with your ecommerce works on a two way principle integration which allow you to sync the inventory. And order from Farfetch to your connecting sales channel. Farfetch integrator will automatically sync the stock and price from personal online store to Farfetch and Orders. And customers from Farfetch to your online store.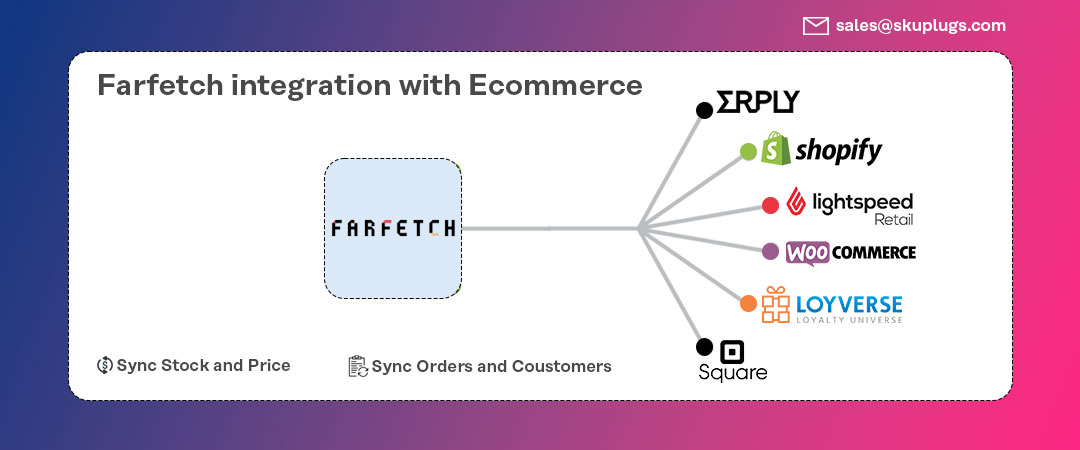 SKUplugs Farfetch integration will automatically process the inventory on farfetch, no manual intervention is needed. Farfetch integration with your ecommerce website will improvise the operation efficiencies, increase your productivity and sync inventory changes to the farfetch and most importantly, save your time.
Key benefits of Farfetch integration :
Centralized inventory and business operations.

No need to update inventory from one store to another store.

Sales or orders information in a real-time environment.

It will save your time, manpower cost and increase profit.

Customer information can be managed easily and hence, growth in customer base.

With accurate inventory information on marketplace, you can save your penalty on overselling.

Go live within a day.
SKUPlugs Farfetch integration with eCommerce(Shopify, Magento, WooCommerce and BigCommerce) enables you to sync multiple platforms or software, inventory optimization, streamlined & efficient business operations with reduced resources and cost. Hence, save your time and money both.
Using SKUPlugs Farfetch integrator, You can integrate your farfetch store with Shofpify, Magento, WooCommerce and BigCommerce. You can also integrate your farfetch store with other Point of Sale system and ERP.
Available POS/ERP integration with Farfetch are :
Lightspeed Farfetch Integration

Windward Systemfive Farfetch integration

Clover Farfetch Integration

Vend Farfetch Integration
SKUPlugs Farfetch integration provides a smooth shopping experience by syncing your eCommerce order information directly into integrated POS/ERP or on other eCommerce store.